Watchmaker Joshua Shapiro gripped the machine's worn handle with his left hand and exhaled.
Standing at the helm of the 100-year-old "rose engine," he peered through a microscope at a small, square slab of German silver illuminated by a gooseneck lamp.
Shapiro turned the handle. The rose engine came alive.
Wheels rotated in concert. Rosettes spun. And shards of the silvery material were ejected from the plate where the machine's cutter made contact.
Shapiro, 38, was practicing the pattern that would decorate part of the dial on his new watch. He hoped the timepiece, called Resurgence, would revive a once-great American industry. Shapiro's watch would be almost fully made in the U.S. — something that hasn't been done in a half century or so.
On this day, he was adorning the German silver — a fancy name for nickel — with moiré, a wavy motif occasionally seen on high-end watches. This decorative technique is know as guilloché, which was invented in the 1500s and also is known as engine turning. Only a handful of watchmakers in the U.S. know how to do it.
After honing the pattern — and some hand wringing over just how wavy it should be — Shapiro would make the final part in sterling silver. He estimated he'd spent upward of 30 hours designing and fabricating this piece for the watch, a prototype of Resurgence.
It's part of a process that spanned thousands of hours and began 12 years ago.
"That's when I got into this and had this wild dream of making my own watch — making every part of a watch," he said. "It's been a huge journey."
Indeed, J.N. Shapiro Watches' latest project is without equal in contemporary American watchmaking. Resurgence, which debuted Monday, starts at $70,000 in a steel case. Versions in other metals, including tantalum, begin at $80,000.
The Inglewood company aims to make about 30 a year, and each watch will have "U.S. made" engraved on the movement — the mechanical innards that power a traditional timepiece. (Think: gears, wheels, levers and springs.) Shapiro has done his research, and believes Resurgence complies with strict Federal Trade Commission rules that dictate when a consumer good warrants the "U.S. made" designation.
It's a distinction that other American watchmakers have sought — only to see regulators intervene. In 2016, for example, the FTC ruled that Detroit-based Shinola could not no longer use the slogan "Where American is made" because at the time its watches featured key parts made overseas.
A true U.S.-made watch has not been produced for more than 50 years — ever since the last of the once-great American watch companies went out of business or were sold to Swiss concerns.
Shapiro, whose previous offering, the Infinity Series, debuted in 2018, hopes his endeavor will inspire other horologists here to return to the traditional art of watchmaking. That's why the partly self-taught watchmaker named the new watch Resurgence.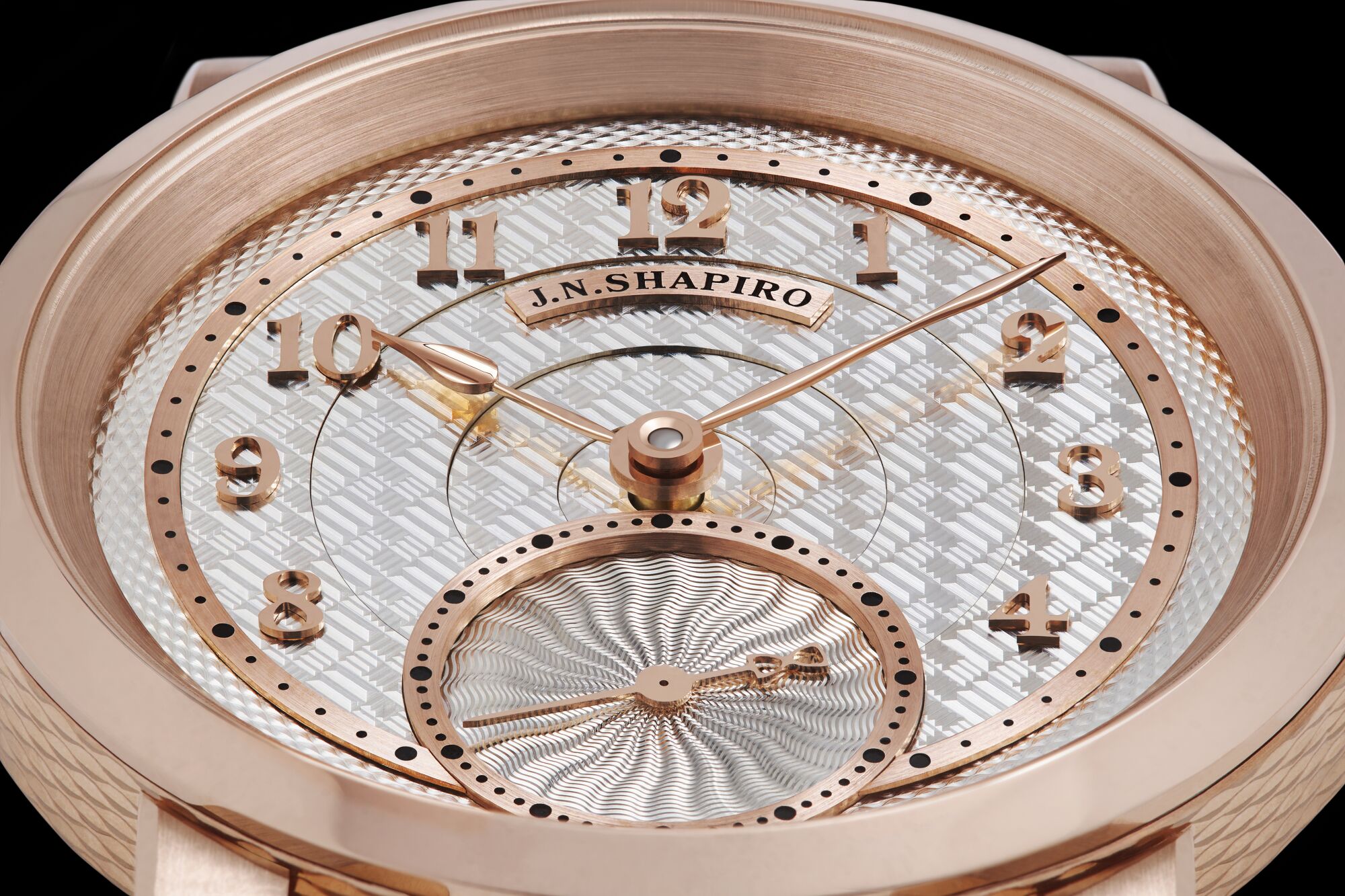 Industry figures are rooting for Shapiro. Paul Boutros, who oversees watches in the Americas for auction house Phillips, said in January that Resurgence would be a breakthrough for watchmaking in the United States. "That a self-taught American in this non-watchmaking country was able to achieve that — it would be a huge achievement," he said.
Boutros, whose company has sold two Infinity Series watches at auction — including one on May 13 for nearly $27,000 — said collectors are "rooting for" Shapiro. "That is an American thing — we are always cheering the underdog."
Shapiro, who until recently taught a high school history class, long wore that label well. But Resurgence could transform him into something else altogether.
'Doing things differently'
Shapiro's watchmaking journey began, in a way, at the South El Monte machine shop owned by his grandfather, Max Shapiro.
As a child, Shapiro hung around the shop, Kenny Sandblasting, where he'd "spend all day climbing over old machinery and tinkering [with] things."
The elder Shapiro, who co-founded South El Monte and later served as its mayor, settled in the Southland in 1946 after working as a welder on the Manhattan Project. And he fostered his grandson's interest in metalworking and related pursuits.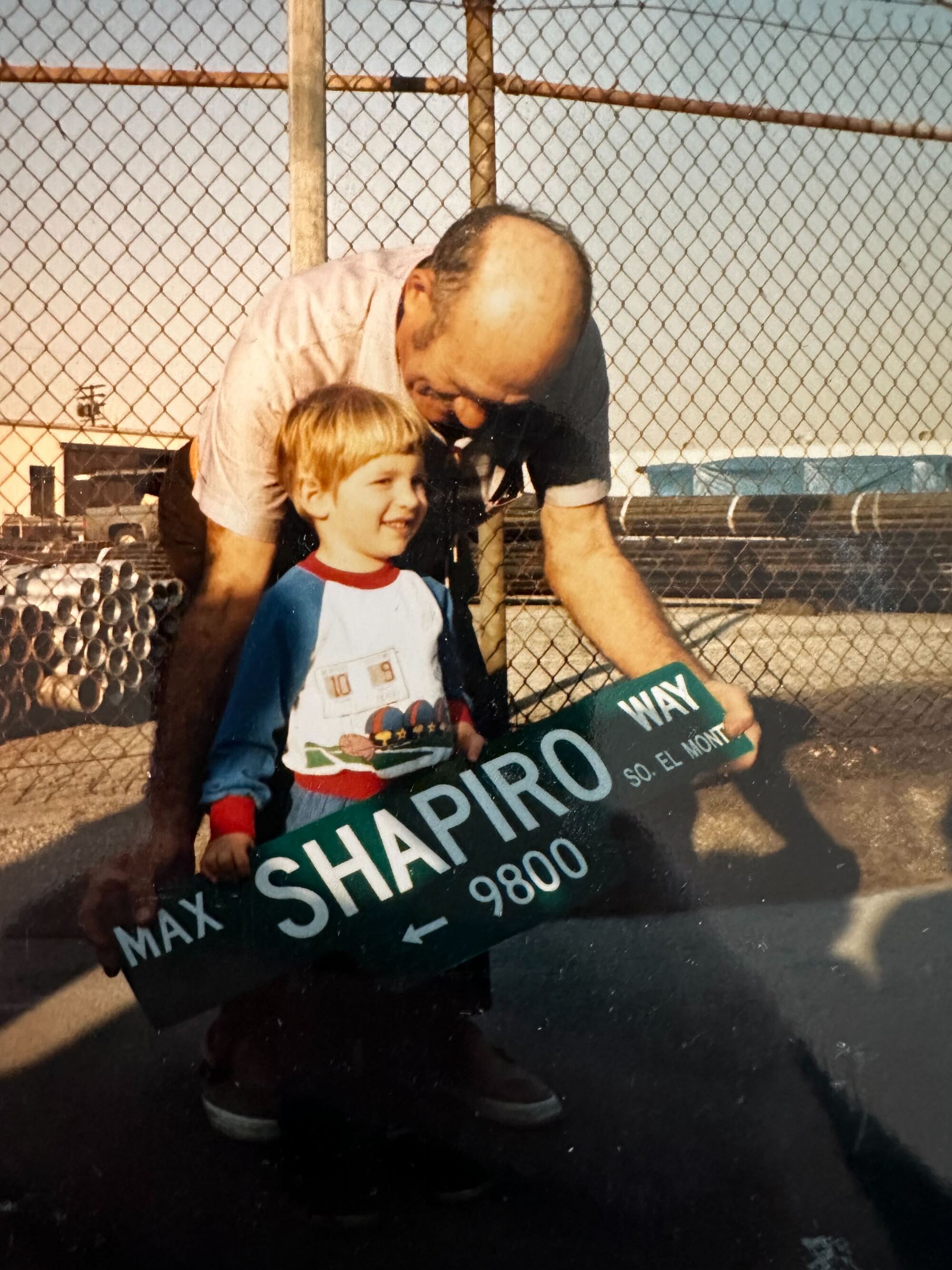 One of the duo's early "projects" was smelting gold. Then about 6 years old, Shapiro would salvage gold that had been deposited in or on the company's crucibles. They heated the recovered precious metal in a furnace until it coalesced, and poured it out as a nugget that Shapiro later made into a coin.
"What I learned from my grandfather is you don't have to walk the beaten path," said Shapiro, who grew up in Arcadia. "You can have a fulfilling, wonderful life doing things differently than other people."
Still, it was far from a straight path to watchmaking.
Shapiro pursued his love of history at UCLA, where he majored in the subject, graduating in 2008. He got a master's degree in history at Cal State Northridge six years later. By then, he'd already begun a career in education, having coached track and field and worked as a substitute teacher at Arcadia High School.
Over roughly the next 10 years, Shapiro held various roles as an educator, including serving as a teacher and principal at a private Jewish high school in the Pico-Robertson area. "It was great training," Shapiro said. "Dealing with watch collectors is nothing [as hard as] dealing with teenagers and angry parents."
Shapiro never sidelined his interest in all things mechanical. In 2012, he began a distance-learning course with the British Horological Institute. Instead of spending money on a trip to England to take a final exam at the institute, he used savings to buy his first engine-turning machine.
The machine was situated in the breakfast nook at the Beverly Grove townhome Shapiro rented with his wife, Ana, and daughter (the couple now have four kids). Soon, he added another guilloché machine. Around this time, Shapiro read "Watchmaking" by British horologist George Daniels.
The book is something of a bible for watchmakers; in it, Daniels shows how to create a timepiece from start to finish. Daniels' watches, Shapiro noted, had beautiful guilloché dials.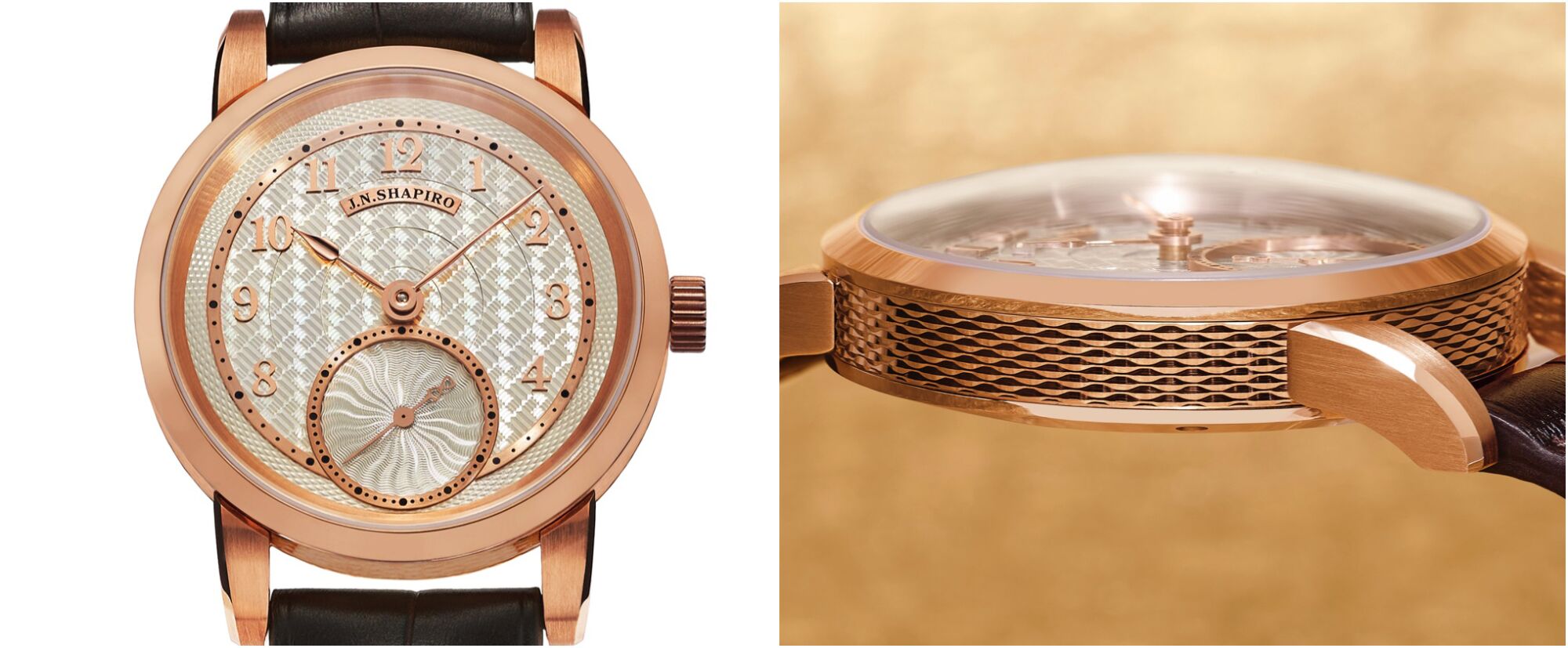 Shapiro took a major step in 2015: he sold his two engine-turning machines — and his beloved 1967 Ford Mustang fastback — and used the proceeds to purchase two higher-quality guilloché machines.
He remembers thinking: "This is going to be a serious thing."
Though Shapiro taught himself the art of engine turning, he also had an important industry mentor, Santa Barbara watchmaker David Walter, with whom Shapiro began collaborating in 2015. Walter needed someone to make guilloché dials for his timekeepers. Since then, Shapiro has created about 20 for him.
As Shapiro sharpened his skills, a few people close to him were the beneficiaries of his craftsmanship. In 2017, he gave his dad a watch whose engine-turned dial he'd made. Keith Shapiro helped his son with the business in its early years — he once drove his son "almost all night" to Arizona so that the watchmaker could purchase that first guilloché machine.
"I thought this would just be a hobby," said the elder Shapiro, laughing.
Shapiro and his colleagues eventually completed 100 of the Infinity Series watches, which used high-end movements made in Germany and sold for $30,000 on average. Each featured the "infinity weave" — a guilloché pattern Shapiro invented — on the dial.
Among those 100 watches were 10 that Shapiro made for Collective Horology, a Ventura company. Released in 2020, the watches had dials made of meteorite and started at $21,500. The otherworldy timepieces sold out.
Asher Rapkin, co-founder of Collective, has been tracking Shapiro's progress on his U.S.-made project. "If he's successful, he'd be sending up a bat signal to other watchmakers here that it's OK to do this," Rapkin said. "His success will lead other people to create new art."
American resurgence
As Shapiro adjusted settings on a rose engine on a recent weekday, it drove home a point: This was a decidedly old-fashioned endeavor, applying centuries-old techniques to craft a wristwatch — itself something of an anachronism.
And yet, J.N. Shapiro Watches is far from a tradition-bound maison, where watchmakers have toiled generation after generation in a quaint Swiss hamlet. As if to emphasize that point, the racket of an airplane flying low overheard punctuated the silence in Shapiro's workshop — a reminder of his company's location near Los Angeles International Airport.
Shapiro said he moved the business to Inglewood in 2020 because it was mutually convenient for him and his employees, who now number six, including five other watchmakers. But he's also mindful of the manufacturing tradition in the area, noting the presence of companies including Raytheon and SpaceX.
The interplay of industry and artistry is central to J.N. Shapiro Watches' story — and on display at its headquarters. On the day Shapiro practiced the moiré pattern, an industrial clamor emanated from an adjacent room that houses CNC mills and CNC lathes, which are used to fabricate watch components. Shapiro said he assembled the collection of machines needed to make Resurgence at a cost of about $2 million.
In all, Shapiro's company turned out 148 of the Resurgence prototype's 180 components. Its hairspring, mainspring, ruby bearings and a few other parts were sourced from Switzerland. However, Shapiro said, the production version of Resurgence will include a hairspring and bearings made in America.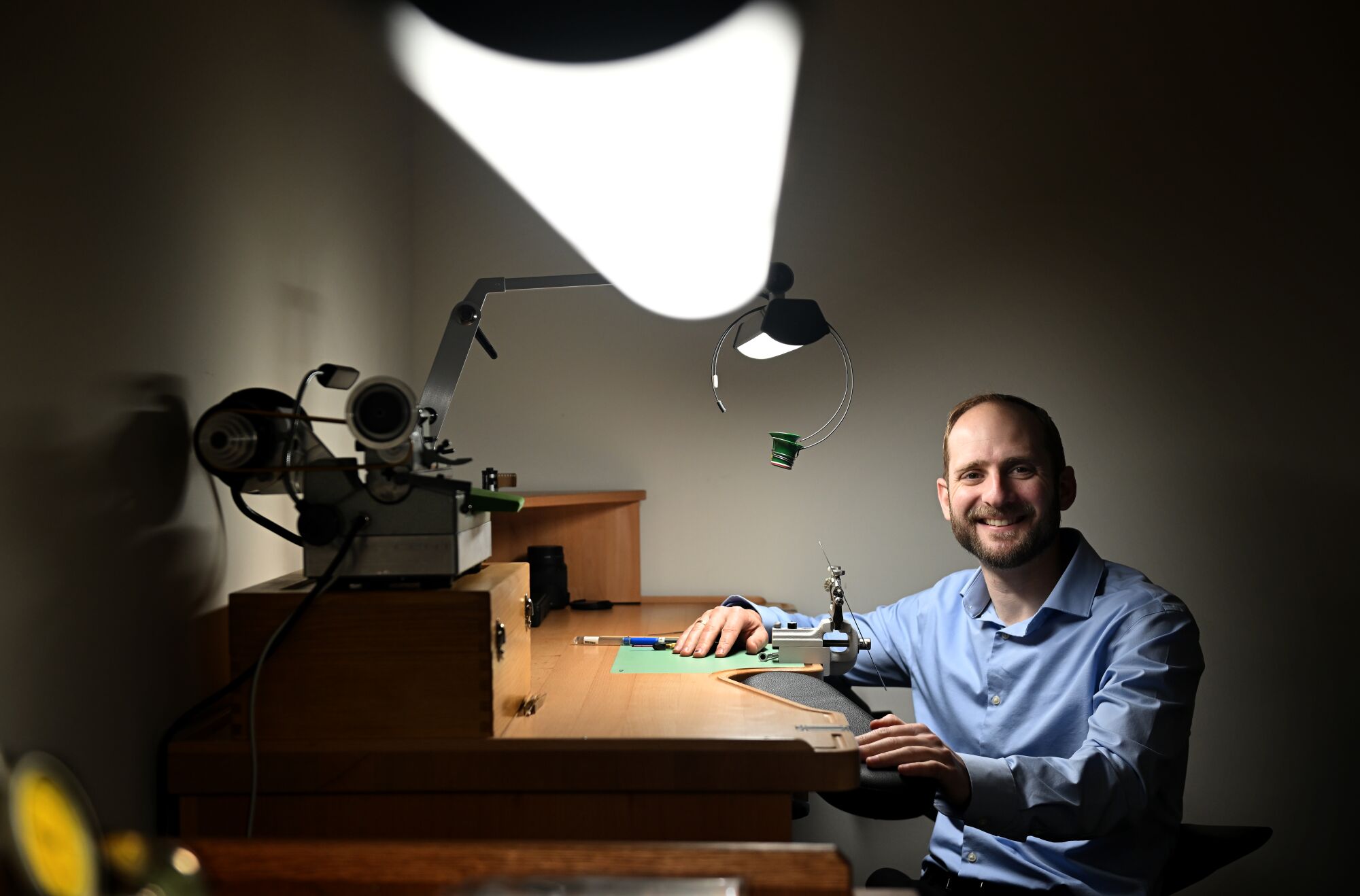 Shapiro's commitment to the U.S.-made standard has impressed collector Gabriel Benador, who owns an Infinity Series watch that has Hebrew numerals on the dial that are a nod to the Jewish heritage he shares with Shapiro. When Benador first heard about Shapiro, he was intrigued by his outsider status. Shapiro "is totally not what you expect from a watchmaker," said Benador, who intends to buy a Resurgence watch.
Even at $70,000 or more, Resurgence costs less than some high-end watches. In this lofty corner of horology, six-figure timepieces have become common. That's due in part to an industrywide flourishing that occurred during the first year or so of the pandemic.
Collectors who found themselves with time on their hands indulged in the hobby, which practically beckons devotees to become obsessed. Prices soon soared. Certain models from Patek Philippe and Audemars Piguet that retailed for five figures routinely sold on the secondary market for double their list price, though the market has since cooled off.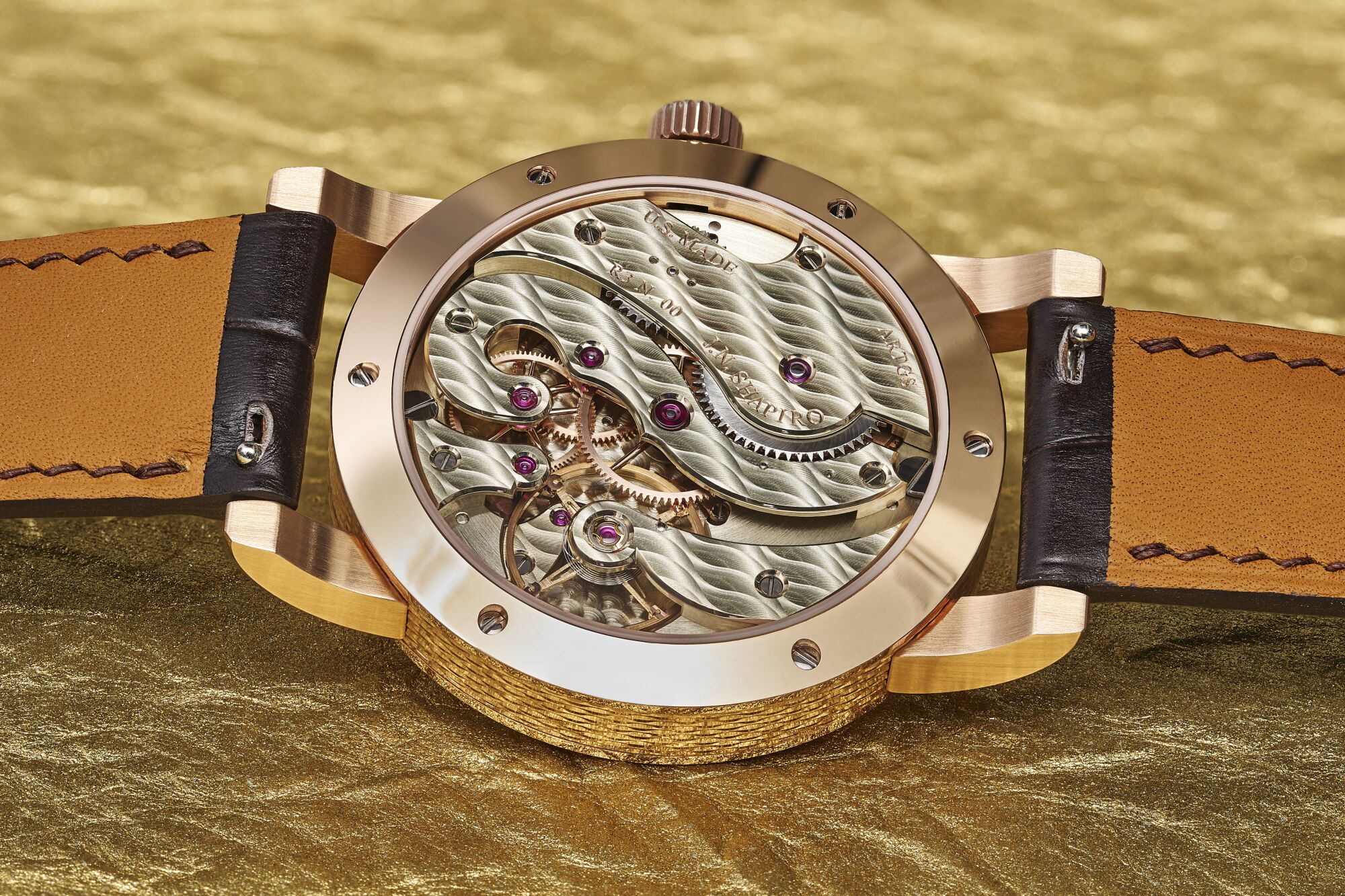 Explaining Resurgence's cost, Shapiro noted the failure rate on producing some engine-turned parts is as high as 25%. He also drew a parallel between watches and cars: "A mass-produced Toyota … maxes out at 90 miles per hour. The components aren't high-performance components. We're putting a ton of time into each and every part. These are watches that'll last hundreds of years."
Shapiro completed the Resurgence prototype in March. He said he took a moment for himself after a colleague handed him the completed timepiece. Stepping into his office, Shapiro "just stared at it for a while."
"It's very surreal," he said. "It really is similar to having a child."
Days later, he still couldn't take his eyes off the watch. Turning it over, he read aloud an engraving on the movement: "U.S. made."
Watch L.A. Times Today at 7 p.m. on Spectrum News 1 on Channel 1 or live stream on the Spectrum News App. Palos Verdes Peninsula and Orange County viewers can watch on Cox Systems on channel 99.